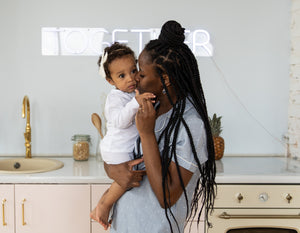 Speak Life Over Your Child
I find that positive affirmations is the building block of self-esteem. It helps to deal with negative thoughts. You do not have to be experts to help a child develop the social-emotional skills they need to thrive. As parents, guardians, caregiver etc., supporting a child's emotional growth is a powerful tool can control their emotions and actions. Positive thinking skills often start with positive-self talk, which means using the voice in your head to say positive thoughts about oneself or a situation. Teaching a child words or phrases when under distress will empower them, boost their self-confidence, and foster resiliency.
Our words are powerful. The Bible tells us "Do not let any unwholesome talk come out of your mouths, but only what is helpful for building others up according to their needs, that it may benefit those who listen" in Ephesians 4:29 (NIV). 
We also read in Proverbs 18:21 "The tongue has the power of life and death, and those who love it will eat its fruit." So we know that our words are influential! We can build people up or we can tear people down with our words. As parents, we have the special privilege to speak blessings over our children. 
Short and simple positive phrases often work best for kids. Giving your child space to come up with their own phrases can be a powerful tool. Keep in mind that specific affirmations that focus on personality and strengths work best. For example, if your child struggles with self-confidence, have them come up with three things they like about themselves, e.g. "I am kind. I am hardworking. I am funny." If they have a hard time thinking of qualities, it might be helpful to have a list of words handy to choose from. There are numerous resources available digitally, from lists of affirmations for kids, to free printable affirmation cards. Here are a few example affirmations to get you started:
Creating a bulletin board of positive affirmations, quotes, and inspiring visuals could be another fun activity for the family to try. Teach your kids to be patient and gentle with themselves by practicing self-care yourself. Send a powerful message by letting them catch you doing affirmations using positive self-talk when you need it.
Claim God's promises over your children and your family. The more you speak His promises out loud and claim things like "I have a sound mind or He will be with me every step of the way" the more confident your spirit becomes.
Their spirit will start to embrace these promises and your mind will be renewed with help of the Holy Spirit.
Along with this, in order to speak life over our children we must understand who WE are in Christ. What does the Bible say about who you are? Who your children are?
Here are a few example affirmations to get you started:
I am strong
I believe in myself
My feelings matter
I am calm
I choose to feel happy
My brain is powerful
I can do hard things
There is only one me in the world
I am enough
I am loved
Our next blog post will list 10 scriptures to encourage your children and help them embrace their true identity.
---